---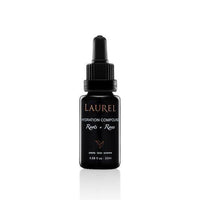 The Hydration Compound is a powerful boost of whole plant extracts, formulated to target dehydration, dryness, fine lines and a lack of firmness. These potent drops contain concentrated, multi-layered infusions of Heirloom Rose Petals and Chia Seed Milk, along with Roots of Marshmallow and Astragalus.
Laurel Compounds are meant to compliment and accompany your Hydrating Elixir step. The Hydration Compound provides a deep and long-lasting hydration to those who need that extra step of support.
If comparing to a cosmeceutical product, the benefits of Hydration Compound would be most similar to a hyaluronic acid or vitamin B serum, providing a whole plant alternative to those cosmeceuticals. This Compound is rich in anthocyanin, flavonoids, polysaccharides, B vitamins such as niacin, betaine and plant humectants that mimic hyaluronic acid.
Our colorful Heirloom Roses provide antioxidant repair and protection, along with potent water and oil soluble nutrients for the skin. The delicate elasticity of Rose petals are what strengthen and firm our own connective tissue, as well as our lipid barrier, to prevent transepidermal water loss. Marshmallow Root is the shining star of the Hydration Compound, a super-hydrator that plumps up our skin the same way our own hyaluronic acid does. It has the ability to more deeply hydrate fascia with its unique combination of mineral and polysaccharide content. Astragalus, another notable Root, is present to soothe, unburden the skin, and repair chronic long-term free-radical damage. Last but not least, Chia Seed Milk provides an additional layer of dewy hydration as well as a rare plant source of Omega 3 fatty acids, protecting our lipid barrier from oxidation.
We do not recommend our potent herbal Compounds for those who are brand new to Laurel Skin. Our Compounds are for those who celebrate the power of plants and prefer them over all other synthetic interventions.
Our Compounds are meant to compliment your Hydrating Elixir step. Begin by emptying the Compound dropper of its contents, tightening the lid, and shaking the product well. After applying a generous mist of Elixir, put 2 drops of Compound onto fingertips and pat onto wet skin. Then immediately apply your moisturizing Serum and/or Balm to damp skin.
Store this product in a cool, dry and dark place. Use within 6 months of opening and by the use-by date found on the bottom of the bottle.